September 17, 2020
kt leads myd for annual young gets it done fundraiser

A virtual pandemic, citywide curfew and daily protesting doesn't stop the Manhattan Young Democrats from their annual fundraiser. For the first (and maybe last) time, Kt Emceed as the virtual host for MYD's 12th annual Young Gets it Done Awards Ceremony.
This year, MYD chose to honor some of NYC's most passionate legislative, community, and policy fighters. Check out more about who MYD honored at MYD.NYC.
August 21, 2020
kt speaks at Diana initiative
Kt's work on combating cyber sexual abuse hit the main stage of the Diana Intative, a technology conference usually held alongside DEFCON in Las Vegas.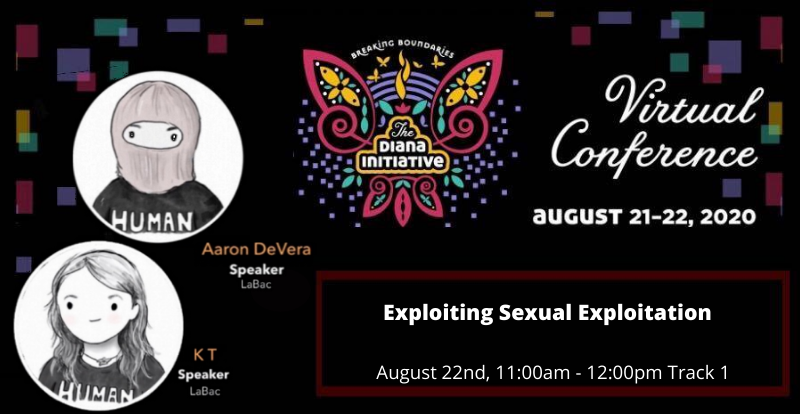 But don't take our word for it!
@kathesagona & @aaronsdevera on Stage 1 discussing increases in #domesticviolence #sexualviolence #cybersexploitation during the pandemic & how @labacdotdev continues to help! Covering legislation to spyware to self-managed VPNs#dianainitiative2020 #infosec #cyberviolence

— Jessica Lynn Gottsleben (@JGottsleben) August 22, 2020
https://platform.twitter.com/widgets.js
@labacdotdev are warriors and am loving their talk at #dianainitiative . Just another way this conference is #BreakingBarriers https://t.co/i7ink36RNE

— Liz Waddell (@vlsin) August 22, 2020
https://platform.twitter.com/widgets.js
Watching an extremely good informative talk by @aaronsdevera at @DianaInitiative on exploiting sexual exploitation https://tdi2020.sched.com/event/dbxr/exploiting-sexual-exploitation and way to help. #dianainitiative2020
Check out some great talks @DianaInitiative including this one on online sexual harassment! https://t.co/uinsqTLdpH

— Megan Kaczanowski (@megansdoingfine) August 22, 2020
https://platform.twitter.com/widgets.js
June 18, 2020
kt speaks at summercon
Kt's work on combating cyber sexual abuse and how to take a blue-team approach towards individual casework was presented to one of the oldest local presentation scense in the U.S.
January 18, 2020
Museum of Modern Malware Website Up
Labac is pleased to finally post all of the art from our MoMal Exhibit. Visit momal dot art to view all of the artists, their art, and the malware that inspired their pieces.
Labac plans to create a 2020 MoMal exhibit, which will likely run a curated show in NYC.
November 19, 2019
Kt Re-Elected as 2020 Manhattan Young Democrats President
We did it! We raised money, we built our membership, we rebuilt our website. The Manhattan Young Democrats did a lot over 2019! And since 2020 is around the corner, Kt was re-elected for a second term.
The 2020 slate, which begins January 1st, 2020 is as follows:
Kt – President
Andre Mozeak – Vice President
Natasha Herrick – Treasurer
Jordan Stein – Secretary
Interested in getting involved?
Reach out to president [at] go MYD dot com for any questions.
Check out go MYD dot com for more information!
September 1, 2020
Labac joins New York Cyber Sexual Assault Task Force
Kt's work alongside her cyber collective has been noticed. Labac was invited to join New York's Cyber Sexual Assault Task Force, which focuses on survivors of online abuse, or of physical abuse that includes an online component. Labac assists with actionable intel, consulting for hardening environments, and reporting identified content for takedown.
If you require any assistance with online harassment or gender-based cyber abuse, reach head over to labac dot dev. You are not alone in your struggles, and Labac is there to help.
August 9, 2019
Kt Curates Museum of Modern Malware alongside Labac and White Ops
Kt works in cybersecurity, and gets sick of viewing the same six standard locks, keyboards, and keyholes for InfoSec visualizations. To push the imagery forward, she co-collaborated a pop-up gallery at DEFCON27, one of the world's largest hacker conventions, titled the Museum of Modern Malware.
Kt personally guided hundreds of visitors around the 10-piece space at DEFCON27, and intends to spearhead a popup exhibit in NYC in the upcoming months.
Huge thanks to White Ops, cyber cohort Labac, all of the amazing artists and DEFCON Goons for their support on this project!
The Artists:
Taezoo Park
Caroline Sinders

Nex
GLITCHAUS
Edith Wilson
Peanut3r
Yana Vasilyeva
Y3TI
Tavet Gilson
Inna Vasilyeva
Jackie Klein
Aaron DeVera
Reach out to Kt if you're interested in getting involved in future pop-up gallery shows!
November 28, 2018
Kt Elected as Manhattan Young Democrats President of 2019
With a rocky two years for both Democrats and the Manhattan Young Democrats (MYD), Kt fought through the bureaucracy and hopelessness many felt since 2016 and chose to be the change she wished to see.
Because of this, she chose to run for President of 2019 to create the foundational processes she thinks MYD needs in order to tap into its true potential as a national leader in political advocacy.
The 2019 slate, which begins January 1st, 2019 is as follows:
Kt – President
Divya Nair – Vice President
Natasha Herrick – Treasurer
Jordan Stein – Secretary
Interested in getting involved?
Reach out to president [at] go MYD dot com for any questions.
Check out go MYD dot com for more information!
January 14, 2018
Kt Announces Support for NY's Council for Women and Girls on Behalf of Manhattan Young Democrats
The past two years have been difficult for women's rights.
In 2016, our nation – through the lens of the media, strong opposition from Berniebros and Conservative Right, and Russian interference  – watched a highly qualified female presidential candidate lose to a celebrity whose trademark included preying upon women, both through bullying and blatant sexual harassment.  New York City watched our nation choose the predator for president.
In 2017, despite what we witnessed happen to one of the most powerful women in the world, America STILL did not acknowledge the clear  systemic gender violence  against  women.  Even in New York, the Reproductive Health Act (legislation to help codify Roe v. Wade on a state level) and the Comprehensive Coverage Act (legislation to expand on reproductive health for both men and women on a state level) did not pass in 2017. The Republican majority in the State Senate stalled both bills in 2016 and 2017. Despite passionate women driving to Albany, New York did not take women's rights into consideration.
And then Harvey Weinstein allegations happened.
But these allegations are not new.
Women have always been fighting back. But now we are fighting harder.
And society is finally listening.
While we can only hope we do not have to wait for celebrities shouting at us to realize the importance of protecting silenced communities, we are finally moving forward in doing so.
Governor Cuomo, who did not care to push for RHA and CCCA during 2017, finally has guidance from his recently created NY Council on Women and Girls to push RHA and CCA forward this year. And thankfully, New York is finally listening.
The Gender Equity Task force is thrilled by the queens of the NY State's Council of Women and Girls' 2018 Agenda. Their robust 30-point plan, if successful, will genuinely place New York as a model for gender equality.
Below are specific points the Manhattan Young Democrat's Gender Equity Task Force feels strongly about outlined in their agenda.
In particular, we would like to highlight the 2018 Agenda's calls to:

Codify Roe v. Wade into the New York State Constitution and pass the Comprehensive Contraceptive Coverage Act, both of which represent essential steps to ensuring women across the state have equal access to sexual and reproductive healthcare. The 2018 Agenda also places a much-needed focus on addressing maternal mortality, which continues to be a grave public health issue disproportionately affecting women of color.

Build better social environments where women feel safe, namely by passing the Equal Rights Amendment, preventing domestic abusers from accessing firearms, and criminalizing sextortion and the distribution of revenge porn. We are especially concerned with the systemic vulnerabilities women face in the cyber world and welcome Governor Cuomo's proposal for new legislation that will protect victims of these forms of cyber harassment.
Create educational environments that are safe and empowering for young girls, by extending human rights law protections to all public school students statewide, developing strong standards for computer science curriculums and enhancing mentorship programs that both expose girls to "non-traditional" fields and reach youth from traditionally marginalized groups. Additionally, the agenda proposes a new learning module that would give young students the tools to engage in healthy relationships and prevent sexually coercive behavior, a necessary step to empowering future generations to end gender-based violence.

KT, Floriane & Charlotte
Co-Chairs, Gender Equity Taskforce
Manhattan Young Democrats
You can read our full statement here.
Someday…
…women will no longer face awkward sexual harassment in their offices.
…women won't be forced to pay taxes on menstrual products with a smaller paycheck than their male counterparts.
…women will feel safer online and not feel vulnerable because of their voice, gender, or female-oriented usernames.
…revenge porn will be criminalized, and women in technology roles will increase, eventually enabling them to prevent these kinds of attacks on their own.
I want to help create that world in America. Let's start with New York state.
November 3-4, 2017
Kt Raises $1,500 for the Children's National Medical Center in Washington, DC.
Kt is honored and thrilled by the support her community for surpassing her initial goal, as she managed to raise $1,500 within 30 days of her scheduled Extra Life event.
This placed her as one of the top 10 fundraisers for Children's National in Washington, DC. and in the top 6% of fundraising participants of 2018.
Kt joined the Desoladies team, a community focused on supporting gamer girls who play DOTA 2. Kt raised their full donation goal before the day of the event, so Desoladies doubled their own fundraising goal!
Stay tuned for a Twitch schedule for more regular scheduled programming! Or check out her Twitch now.
The recorded portions of the 24-hour stream will be uploaded to her YouTube Channel. Warning, the sound quality is not perfect.
Want to learn more about Extra Life? Want to do it in 2018? Or maybe you would join her team in the future to raise money together? Find out more on Extra Life's website..
October 30, 2017
Help Kt Raise Money for Children's National Medical Center
For 24 hours straight between November 3-4, Kt will be playing video games to raise money for Children's National Medical Center in Washington, DC.
Kt managed to reach her initial fundraising goal within the first 48 hours of announcing her Extra Life, and is ranked within the top 10 contributors to the Children's National Medical Center. This also places her in the top 2% of all Extra Life fundraisers!
Want to help Kt reach her stretch goal before she goes live? Kt's willing to engage in a plethora of slightly humiliating nonsense, just for you to donate to a (tax deductible) cause! Donate to her page!
Or maybe you want to watch her play? Check out her Twitch on November 3.
October 18, 2017
Kt Co-Releases Statement on Behalf of Manhattan Young Democrats
On October 18, Kt and Floriane Borel, the co-leads for the Manhattan Young Democrats (MYD) released a statement on behalf of the Gender Equity Task Force regarding the Everest of allegations against Harvey Weinstein, seen below…
As we write this statement, 38 women have come forward and accused Hollywood producer Harvey Weinstein of sexual harassment and assault.

As this story unfolds, we are reminded of the pervasiveness of sexual harassment and assault across nearly every industry, be it Hollywood, tech, advertising, finance, or education, and that for every person who is brave enough to come forward about their experience, there are countless others whose stories we may never hear. We applaud the women who have spoken publicly about their experiences with sexual harassment and assault for their bravery, and we stand with those who may still struggle finding their voice and seeking help.

We must no longer tolerate silence or complacency, especially when faced with narratives that seek to undermine the alleged victim and downplay the responsibility of the perpetrator.

KT & Floriane
Co-Chairs, Gender Equity Taskforce
Manhattan Young Democrats
Read the full statement here.
October 11, 2017
KTAQU Interviewed as a Desoladies Featured Member!

Kt's enthusiastic dedication to female gamers earned her a Featured member slot with Desoladies, a community of DOTA 2 players who foster a community for lady gamers to play in a comfortable environment. See her interview below or at Desoladies.com!
Please introduce yourself! I'm KTAQU (Kt\Atu) – I used to act professionally, but now do analyst/cyber/OSINT work for large companies. I started playing video games since Pokemon Red and built my own machines in my early teens. I started playing DOTA 2 since 2013.
What is the origin of your username? It's an acronym of my favorite handles/nicknames. I like 'em unpronounceable.
Have you ever been to a LAN? Yes! Fun fact: In college, I set up a router specifically for Diablo 2 LANs in my dorm.
How would you describe your playstyle in Dota? P4/P5 Support. I fit into the support sterotype, which stems from my World of Warcraft Resto Shaman days (Horde. Duh.)
What was your favorite DOTA 2 moment? Definitely attending TI7 this year watching the Team Liquid v Virtus Pro match on the outside lawn. Everything was insane: the matchup, crowd, weather, even the wandering cosplayers under the jumbotron.
Who is your favorite hero? Your least favorite? Witch Doctor, Disruptor and Shadow Sham are all go-tos for me. Kotl was up there as well, but might become my least favorite with how many new wannabe offlane kotls are running around post TI7 thanks to Gh.
What is your favorite thing about Desoladies? I enjoy Desoladies' savory games without the salt. DOTA 2 unfortunately fans flame wars, but the Desoladies community keeps everyone cool, calm and refreshed. I'm glad to be a part of it.
Do you have any other projects or groups you are affiliated with that you would like to give a shoutout to or promote? I co-created Sevencut.com, a blog focused on the cross-section between video games and critical thought. I also plan on Twitching for Extra Life – Follow me on social media to stay updated on my 24 hour-straight gaming fundraiser![edited]